Licence number 22/00403/ANEST
My name is Sue and I welcome Chihuahuas to my little Chihuahua hotel. I am 5 STAR licenced, fully insured and have been providing home boarding for Chihuahuas since 2009.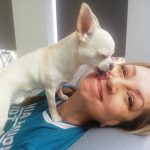 I am based in Bexleyheath, Kent and we are surrounded by lots of lovely parks, nature walks and quiet places to enjoy.
We are not a crowded boarding kennels and only take one households' dogs at a time. The Chihuahua Hotel is a home from home boarding experience. We pride ourselves on our devoted and individual attention. We never leave your dogs alone in the house and they have constant supervision when staying with us.
We appreciate you may have lots of concerns when leaving your beloved dog with anyone new. Here are a few of the frequently asked questions…
Are you Licensed? We have a 5 STAR rating for our licence with the council. This is the highest rating available. 
Are you Insured? We are fully Insured. We also recommend that you have your pet insurance.
Are you Qualified? I have a canine First Aid Level 2 (VTQ) certificate. I have also been licenced since 2009 for Dog care and home boarding.
How do I know I am leaving my beloved pet with a trustworthy person? I am an established and licensed dog boarder. I have been CRB (Criminal Records Bureau) checked and Licensed. I can provide character references from Police, Magistrates and Council Licensing officers who have known me for over 20 years. You can confirm my license status by calling Bexley council on 020 3045 3900 or checking the link on their website:- Bexley.govWEBSITE (and clicking on the 'list of animal licences issued') I am proud to say we are one of the very few licensed home dog sitters in the whole borough. Licence number is 22/00403/ANEST. We have been awarded 5 STARS standard for our Dog boarding license. This is the top rating possible.
What is the check in and check out time? We don't have a set check in and check out times and are quite flexible, however we would like to be kept informed on an arrival time. (Late check out fees may be charged)
How do I know my dog will be happy for a whole two weeks whilst I'm away on holiday? If your dog is staying for a long period I advise a 'trial' day visit and maybe an overnight stay, prior to your holiday. This will ensure your dog is comfortable in the environment and let your little one get to know us. We can talk about the best way to settle a nervous dog or a dog who's never stayed away from home before.
How are charges paid?  Charges must be pre-paid at beginning of visit (Late check out fees must be paid on collection of dog) Payments can be made by cash or Paypal. Credit / debit card payments are accepted on paypal  (10% charge will be added for paypal payments unless prior arrangement to pay using 'friends and family' option) Charges can be viewed on the Price list page
I have never left my dog before and am worried about their reaction. If you have not been on holiday since you got your dog, it can be a new experience and worrying time for both of you. I offer mini trial stays to help ease you both in to the new situation. We can work together to help your little one settle and feel completely at home at The Chihuahua Hotel.
Will my dog be Socialized? Yes. All our guests have the option to interact with my dog and my family who are all dog lovers (no children) We occasionally attend small dog meets and fun shows, so providing your dogs are social and friendly, (and you are happy for us to do so) we will attend these events.
Where will my dog sleep? Your dogs will sleep in crates / cots / pens depending on their preference. They will sleep on their own (unless requested for dogs from same home) for their own safety and comfortable sleep. We provide the most luxurious sleeping arrangements including warm clean snuggly beds and blankets, fresh bottled water and a clean puppy pad for those little emergencies. Dogs will not be allowed to sleep on the bed.
Where will my dog play? We have a fully enclosed garden with secure fencing. They will play off lead here only. On walks, we will always have them on lead. Your tiny companions will have a tailored daily routine, which could involve varied exercises to stimulate them as well as plenty of play sessions to encourage socialisation.
Do you need to see proof of Vaccinations? Yes. We need to check that your dog has been wormed and that all the required vaccinations and health checks have been carried out. Puppies accepted with full vaccinations. Dogs showing signs of illness will be segregated for their own and others protection.
What do I need to provide on checking in? The Chihuahua hotel requires up to date vaccination certificates only. If you wish to bring your dogs favourite toy/blanket and their food bowl, to make their stay a little more 'homely' that will be fine.
How many dogs will be staying? We offer a one to one personal service to your dog, so we only have a very limited amount of spaces. Dogs from other families may be staying at the hotel. (usually only during cross over pick up / drop off periods ) Integration will be careful and monitored.
How much notice do I need to book? We accept bookings a year in advance. Most clients book as far as 6-8 months in advance, so it's best to plan early for any special holiday dates you may need.
What will my dogs day be like? We have lots of play sessions throughout the day both inside and outside (weather permitting) . We love walks in the park and use our local parks, Royal London Parks and also enjoy country walks. At The Chihuahua Hotel we will work closely with you to understand the behaviour and characteristics of you dog ensuring they will have tailored routine that will benefit a balance of relaxation, learning, and enjoyment. Hugs, snuggles, love & tummy rubs given in abundance around the clock!
What will my dog eat? I provide our guests with Lily's Kitchen organic dry and wet dog food. We also offer a choice of breast of chicken, sirloin steak or white fish as an addition to their kibble meal. We will be happy to feed specialist vet prescribed foods, although we may ask you to provide this.  You may bring your own dog food if you prefer.
What happens if my dog needs regular medication? I have experience with medicating a dog regularly so I have no problem with this. Just leave me clear instructions and I will be happy to follow them exactly.
My dog is older and can't walk far… will they be ok? For our mature and less able guest we offer light exercise and relaxation. We will provide a quiet and peaceful environment and plenty of pampering. We also have a quiet room, away from the main play area if your more mature dog requires extra peace and quiet.
What about grooming? The Chihuahua hotel are not professional groomers but will provide a basic grooming  service and do have access to a local professional dog groomer who specialises in Chihuahuas. She will come to groom them at the Chihuahua hotel. Appointments can easily be made with prior notice. (extra charges for professional grooming will apply) Complementary baths for our guests who stay longer than 5 days, so that you can pick them up clean, dry and smelling great!
What happens if my dog gets ill or needs a vet? The Chihuahua hotel use a local reputable vet. All vet bills incurred from treating your animal will be the owners responsibility and must be paid in full when collecting your dog. Unless the vet advises the dog to be kept in, we will bring your little one home and care for them as if they were our own. We will contact you and keep you informed at all times. Local Vet on call 24 hours a day, within 10 minute drive of the The Chihuahua Hotel
Are there any rules regarding my dog? Dogs must be socialised with other dogs and people. We do not take aggressive dogs. Dogs must be house trained, unless they are puppies. (who we expect them to make little mistakes!) We cannot take persistent barkers as we live in a residential area.
Check out our latest 'Chihuahua fun' on our Chihuahua Hotel facebook group 

"Thank you so, so much for looking after the four chi's so well. They looked very happy and relaxed which enabled us to relax, knowing that they were in such good hands...ps we all miss Clyde!"
Fabulous! Such kind care and attention given to our babies. Coco was really sad for a couple of days as she missed Clyde so much!
Molly had a fabulous stay at The Chihuahua Hotel.
Thank you for making sure she had a fantastic, fun filled holiday!
We relaxed knowing she was being looked after like she was one of your own. Thank you (and Clyde of course)
We wouldn't leave our Chihuahua with anyone else. Sue looks after our Molly like she were her own leaving us to relax while we were away.
We dread leaving our precious dogs, but Sue made them so welcome and treated them as her own. A five star service and I would not choose anywhere else"
A huge thank you to the Chihuahua hotel and Susie Wong for saving my little boy Harley-long haired chihuahua. He suffered an epileptic fit and Susie, who has great knowledge and professionalism followed all the necessary procedures to save his life. I can not thank you enough!
Sue always looks after my precious babies when I go on holiday or out for a long period. They love going to her home and treat it like their own. The Chihuahua Hotel is the only place I'd leave them as i know they will be well cared for just like at home
Sue I can't praise you enough for the care you have given Leo for the past week and he is walking much better on the lead- plus massage is a very good idea. Thanks again, til next time.
Amazing service, great communication. The dogs are extremely well looked after! I feel extremely lucky to have found such an amazing 5 star hotel for my pets. The dogs returned happy , well groomed and I have full record of their stay in writing and photos. ThankU!
I want to say a huge thank you to Susie at the chihuahua Hotel. My two girls Coco & Amber stayed there whilst we got married in July. I was so impressed with the hospitality and professionalism of Susie & the hotel was spacious, clean and homely. Both girls settled in straight away leaving me confident they would have a good time. Susie even dropped our girls home for us and I was so excited to see a diary with photos of what they'd been up to. I would highly recommend The Chihuahua Hotel to anyone that loves their dogs as much as us. Thanks Susie
Until I met Sue, I was extremely reluctant to leave my dogs with anyone. But now having found Sue, I have no hesitation in leaving my two chihuahuas with her. Her care and love for them exceeded my expectations