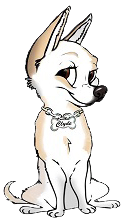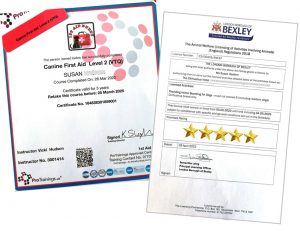 Terms and conditions must be agreed to if boarding your dogs at the Chihuahua Hotel
– All dogs will be required to attend a pre-stay visit  prior to booking. This will allow our dogs to meet and for me to meet your dog(s). You can view the facilities and we can discuss your dogs boarding routing and care. Any behaviour issues (anxiety / training) can be discussed at this point and we can work out the best care routine for your dog.
-We have licencing and insurance restrictions. We only take one households dogs for boarding and we cannot walk  dogs 'off lead.'
-You will be required to provide up to date vaccination papers for your dogs. We will also require worming and flea treatment details. We do not require kennel cough vaccinations, but please note that dogs showing evidence of kennel cough (or associated illnesses) may be refused boarding at the Chihuahua hotel. Please alert us if your dog has recently suffered a bout of kennel cough (or associated illness) as this may affect the care of your dog during it's stay with us.
-Dogs showing any sign of illness may be segregated for their own / and other guests protection. The Chihuahua Hotel may use their Emergency Vet if they deem necessary and must be fully reimburse for all payments (whatever the outcome) made in the treatment of the animal at time of your return. Please alert us if your dog has suffered any recent illness. If you fail to disclose any communicable / contagious illnesses prior to stay, your dog(s) may be transferred to veterinary care for further treatment and boarding. You will be required to pay any vet bills/vet boarding bills  that may be incurred on your return.
-All information provided to the Chihuahua Hotel must be truthful and accurate. Dogs showing previously undisclosed signs or anti-social behaviour / aggression or destructive behaviour may be transferred to boarding kennel facilities. You will be required to pay any additional boarding bills  that may be incurred on your return.
-We live in a residential area and so persistent barkers cannot be boarded at the Chihuahua Hotel.
-More than one households dogs may be cared for at the Chihuahua hotel. This may be due to cross over booking periods or daycare guests. All interactions will be carefully monitored. Dogs showing signs of aggression will not be mixed with other dogs.
-Booking procedure:-We require a pre-stay visit for all new clients. Once we have had this initial pre-stay visit, you are free to arrange any available booking dates and details.  We charge £20 for this pre-stay visit. Payment for the pre-stay visit must be made though Paypal only. Once this is paid, we will confirm the date and time slot for your visit. We are very busy and may have other client pre-stay visits booked throughout the day so please be aware if you miss your time slot, we may have to reschedule on a different day (with an additional charge) 
To secure a booking, we take a £15 per day, non refundable deposit. Please try to only book dates you require as 'spare' days not used for a booking will mean you lose the £15 deposit for those days. Your booking will ONLY be considered confirmed once this Deposit has been paid. Please be aware that I cannot 'hold' or  'pencil in' dates. Under certain circumstances, If you need to cancel, I can return deposits (or part there-of) if I am able to re-book the dates. When booking, please state the approximate  times of drop off / pick up as this will help speed up the booking procedure. We are currently very busy and book approximately 6 -8 months in advance.
Cancellation procedure:- Cancellations will be accepted until 48 hours before the agreed start of booking time/date. Full payment must be paid if cancellation is made after this time. Cancellations must be requested / confirmed by email. Verbal cancellation is not accepted.
Payments – The full balance must be paid prior to/on drop off day. Payment for the balance must be made by Paypal or cash. Paypal payments will incure a 10% charge unless sent 'friends and family' (which is free of fees) A Cheque is accepted 14 days prior to drop off day. Payment must be cleared on day of drop off otherwise alternative payment may be requested by cash / Paypal to cover the balance. HOW TO SEND SUE MONEY via PAYPAL
-Pick up times – We try to be flexible with our times but all late check outs of pets will incur a £5 per hour extra (up to £25 per day) payable on collection of animal, unless prior arrangement made. Daycare rates are generally 12 hours. Overnight rates are 24 hours. eg:- Morning drop offs (9am-12pm) to morning pick ups (9am-12pm) are charged as one overnight rate. Late pick ups may incur a further hourly / daycare rate. For guidance, we consider – Mornings 9am-12pm. Afternoons 12pm – 5pm. Evenings 5pm – 9pm. We do not allow pick ups / drops offs on Xmas eve / Xmas day / Boxing day / New years eve / day.
-We are happy to discuss any of these conditions with you. Please alert us if you have any concerns and I am sure we will be able to put your mind at res